Knowing where, and who, our food comes from has always been one of our missions at Foodiepages; meeting and learning about new Canadian artisan food makers never fails to excite and inspire us. And what's better, being able to bring them to you!
Drizzle Honey, founded in 2015 by Aja Horsley, was created from a love of honey bees, local agriculture and natural, healthy products. Aja is an Environmental Scientist-turned-entrepreneur who previously led beekeeping projects for SAIT's Culinary and Research departments. Through her project work she recognized the urgent need to support the Canadian honey industry and became drawn to the luxurious colours, aromas and flavours that naturally occur in high quality honey.
Drizzle was born shortly after and creates boutique, sustainable honey products that support local beekeepers in Calgary, AB and surrounding areas.  Drizzle's natural honey varieties come from pollen and nectar gathered from flowers and hives in different locations and seasons. Their hives are kept healthy and their honey raw; you can support the sustainability of beekeeping while also eating healthy pollen, enzymes and minerals.
We sent out Drizzle's Summer Honey in our Tasting Box and the results were everything we hoped, "I loved this honey – smooth, sweet flavour. Not as sweet as I was expecting – I REALLY enjoyed it!". It was one of the top-rated products as voted by the FoodiePages.ca community. Their honey can now be found on Foodiepages and can be shipped Canada-wide so everyone can taste this smooth, creamy honey.
If you're looking for ways to use your Drizzle Honey, we have a few we can suggest. These beautiful recipes put honey in the spotlight so it can really shine!

TRENDING HONEY RECIPES
1. Honey Chamomile Popsicle's from Vanilla and Bean
2. Sea Salt and Honey Ice Cream from Kitchen Treaty
3. Whipped Honey Butter from Somewhat Simple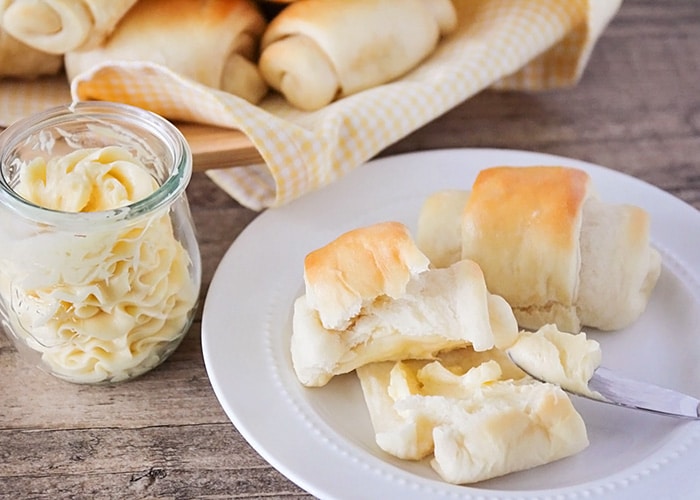 4. Rosemary Honey & Grapefruit Spritzer by Tending the Table
Save
Save
Save
Save
Save
Save