foodiepages
Shareable Charcuterie Gift Box
Shareable Charcuterie Gift Box
Inspiration for their next gathering, whether at home with family or entertaining friends. The Shareable Charcuterie gift collection includes a handmade ceramic olive oil dispenser and artisan goods, all sourced from small brands in Quebec.
Sale price
$150.00
Regular price
Unit price
per
Description

Each gift collection includes,

Ceramic Olive Oil Dispenser // Atelier Trema. Atelier Trema is a small studio located in Quebec. Here, skilled artisans blend traditional techniques with modern design to create stunning ceramic and pottery pieces. This ceramic oil dispenser holds 400ml.

Extra Virgin Olive Oil 500ml // Mandy's. The salad sisters, Mandy and Rebecca Wolfe, opened their first salad bar in 2004 in the back of a Montreal women's clothing store. Crafted in the mountains of Spain, the olives in their best-selling olive oil are handpicked and crushed the same day to produce an intense and rich flavour.

Artisan Fruit Spread // Simon Turcotte. Simon Turcotte confiturier has made it his mission to create high-end products. The majority of the fruits chosen by the artisan jam maker come from Quebec, and all jellies and spreads are handmade in small quantities.

Mélimélo 'Nuts & Bolts' Mix // Les Fumistes. Slowly smoked with 100% Quebec wood and accompanied by Les Fumistes' secret spices, Mélimélo will become a must for your next happy hour.

Organic Linden Honey // Miels d'Anicet. Made from practically 100% linden nectar, this honey is fresh in taste and deploys minty notes. It brings a delicate freshness as a finishing touch for all plates at the table.

Artisan Sausage // Pork Shop. Owner Frédéric Daoust wants to show the world that charcuteries from Quebec can rival Europe. Featuring ingredients such as Labrador tea, coffee beans and IPA beer, Pork Shop meats are anything but ordinary.

Story Guide for a Deeper Connection:

A Story Guide is included in each gift, elevating the experience for your recipient by providing background on the makers and their products.
Shipping Info

Please allow up to 1-3 business days processing time (prior to the shipping method selected at checkout). If you have any questions, please contact orders@foodiepages.ca before placing your order.

Each collection is delivered in a locally designed, recyclable gift box.
View full details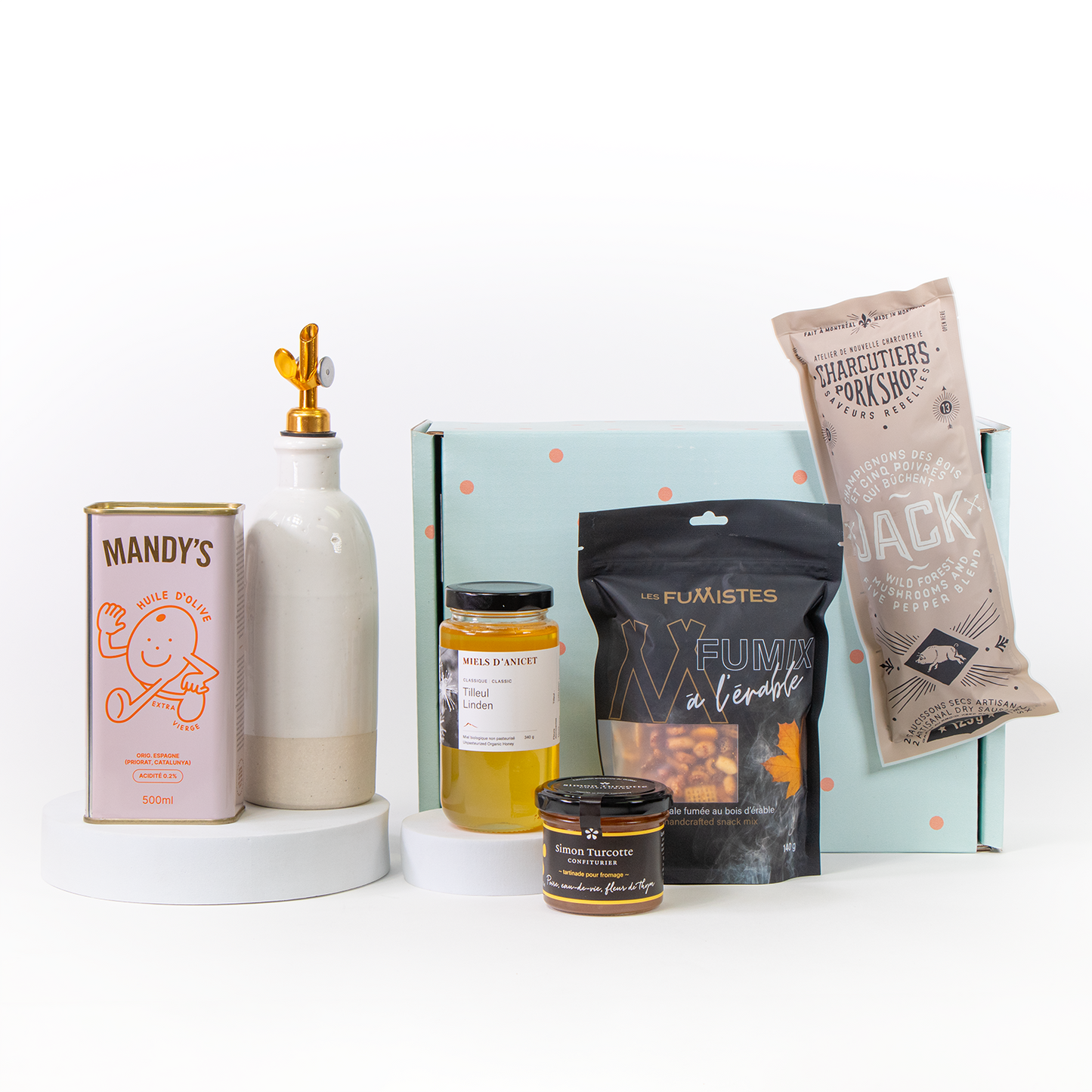 Need a corporate account?
Corporate gifting done right
We're not about boring or generic corporate gifts. We'll bring your vision to life with unique gift ideas that live up to your brand and its values.