foodiepages
TLC Gift Box
TLC Gift Box
Our TLC Gift Basket is perfect for anyone who could benefit from a little break - whether they've been burning the candle at both ends, going through a difficult time or have simply forgotten to make time for self-care. Indulge and relax with these Canadian-made goods.
Sale price
$85.00
Regular price
Unit price
per
Description

Each gift collection includes,

Hydrextreme Charcoal Sheet Mask // Consonant Skincare. This compostable sheet mask is soaked in a rich serum to provide profound results after just 30 minutes. Skin will look soft, smooth, plump, and deeply hydrated.

Konjac Facial Sponge // BKIND. Infused with rose flower extract, the perfect way to clean your face in a single step without the need of a soap! 100% natural and biodegradable.

Peony & Olive Leaf Flower Bath Milk Sachet // Dot & Lil. Luxuriously moisturizing whole milk powder, with ground oatmeal and baking soda to soften the water and your skin. Enough for 1-2 botanical baths surrounded by flower petals.

Lavender Argan Hand & Body Lotion // Leaves of Trees. This deep penetrating but light-feeling lotion starts with 100% pure, cold-pressed by hand, certified organic, and ethically-sourced Argan Oil. The star ingredient is sourced from a women's cooperative in Morocco, providing sustaining employment for the women and amazing skin-boosting benefits for everyone.

B. Powered Honey // Beekeeper's Naturals. This therapeutic blend of royal jelly, bee pollen, propolis, and raw honey is designed to support those heavy, low energy days. Try a spoonful on those sleepy mornings, napless afternoons, and before intense workouts.

Organic Dark Chocolate // JOYÀ. Made with nothing but organic cacao and organic coconut sugar, your heavenly anytime treat and coffee's best friend. (VEGAN/GF)

Harvest Gold Latte Blend // Pluck. Superfine ground turmeric, cinnamon, and ginger make this a perfect caffeine - free latte blend. Enjoy hot, or pour over ice. (VEGAN/GF)
Shipping Info

Please allow up to 1-3 business days processing time (prior to the shipping method selected at checkout). If you have any questions, please contact orders@foodiepages.ca before placing your order.

Each collection is delivered in a locally designed, recyclable gift box.
View full details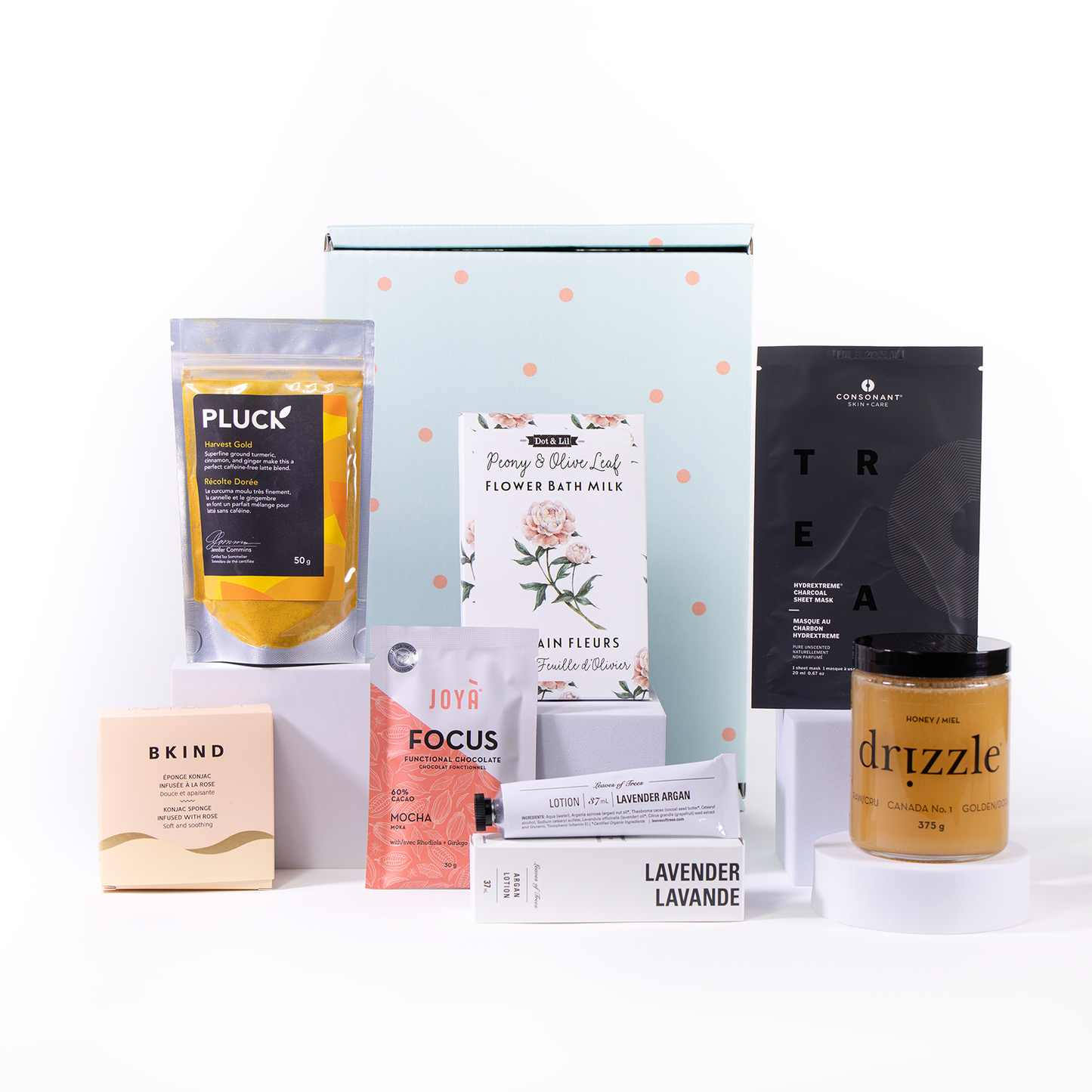 Need a corporate account?
Corporate gifting done right
We're not about boring or generic corporate gifts. We'll bring your vision to life with unique gift ideas that live up to your brand and its values.